Meet Vivienne Varga
Vivienne Varga, owner and lead instructor of Powder Pilates, is a Comprehensive Certified Balanced Body Pilates Instructor, Certified CoreAlign, Certified Springboard and Certified Aerialates Instructor, and the former owner of Santa Cruz Pilates.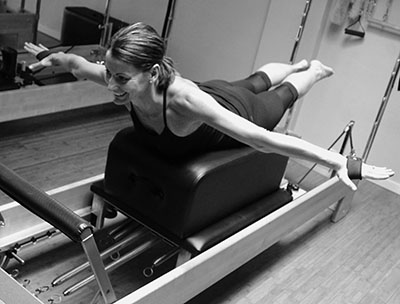 Vivienne has specialized training in anatomical and biomechanical movement in key areas including the shoulder girdle, pelvis and pelvic floor, and the lower extremities. She fixes subtle, yet foundational, misalignments in the body due to her ongoing education to understand the body better.
Vivienne has experience teaching all types of fitness populations including athletes, executives, senior citizens and clients with injuries and special issues. Diligent on technique, Vivienne encourages fun and energetic sessions.
Expert Pilates Instruction
Powder Pilates studio is comprehensively certified and fully equipped by Balanced Body through Master Instructor Lisa Graham at Agile Monkey in Santa Cruz, CA.
The CoreAlign improves posture, balance and functional movement in a fast-paced, challenging workout for musculoskeletal rehabilitation, performance enhancement and to maintain a healthy lifestyle. Powder Pilates is certified in CoreAlign by Master Instructor Tom McCook at Center of Balance in Mountain View, CA.
The Springboard is a high-intensity, full-body dynamic workout with springs, a wallboard and a mat in a 50-minute, affordable group class. Great for anyone wanting to cross-train for better stability, mobility and breath control. Powder Pilates is certified by Master Instructor Nancy Meyers at EHS in San Francisco, CA